Archived Exhibition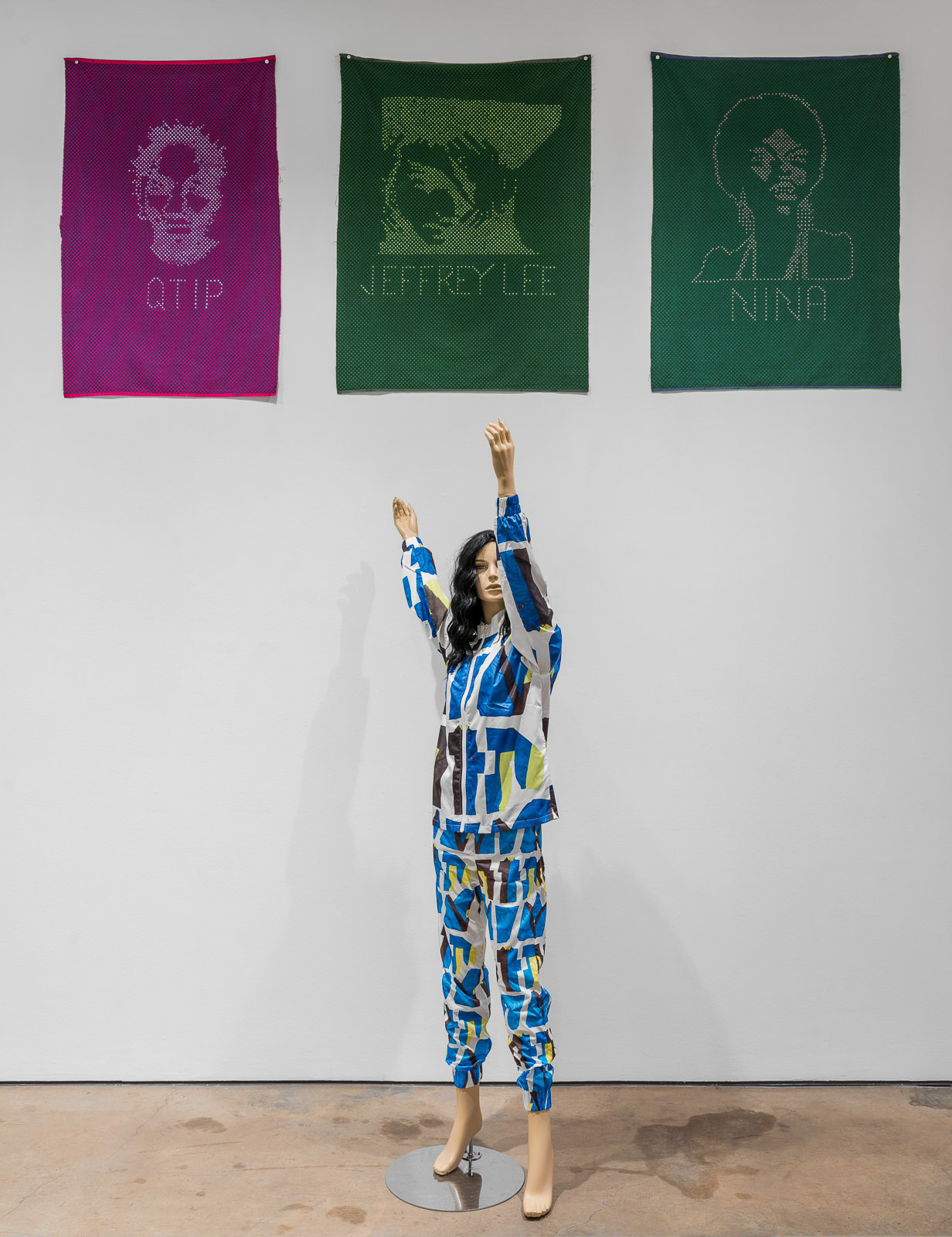 Fri, Feb 10, 2017 → Sat, Apr 15, 2017
Opening reception: Fri, Feb 10, 6:00 - 8:00 pm
ARTnews
Touching on popular culture, social media, high fashion and high art, Cheryl Donegan's work expresses a visual tension that tugs at accepted subjects in modern painting such as the traditional relationship between artist and model, the purported autonomy and nonreferentiality of abstract art and conventional themes of the gestural painter. Donegan is well known for video works from the early '90s, including Kiss My Royal Irish Ass (K.M.R.I.A.) and Head (both 1993). Her most recent videos are Blood Sugar (2013) and Haul (2014).
Donegan's new exhibition covers an array of works whose common denominator is cloth as metaphor for skin-deep space. On view are sculptural mannequins cloaked in nylon tracksuits printed with images of second-hand tracksuits sourced as items for sale on eBay. One group of paintings are digitally printed and hand dyed fabrics that twist the images of the tracksuits into abstract compositions. In another body of paintings, faux surfaces mimic the authentic burlap upon which they are painted, conjuring images that are caught between thingness and immateriality. On these canvases, repeated geometries of gingham further echo the grid of the fabric. Hanging from the ceiling are what Donegan calls "Raster Stars," unstretched paintings of bitmapped flags depicting famous figures such as Gena Rowlands and Q-Tip.
Donegan has participated in numerous solo and group exhibitions in the United States and Europe, including Scenes + Commercials, New Museum, New York; HAUL, David Shelton Gallery, Houston; OUTSIDE THE LINES: UIA (Unlikely Iterations of the Abstract), Contemporary Arts Muesum Houston; 1993: International Jet Set, Trash and No Star, New Museum, New York; Blood Sugar, Galerie VidalCuglietta, Brussels; deCordova Sculpture Park and Museum, Massachusetts; and White Flag Library, White Flag Projects, St. Louis, in 2013. She has previously exhibited at MoMA, MoMA PS1, Guggenheim Museum, White Columns, The Whitney Museum of American Art and Museum of Contemporary Art Chicago. Recent international exhibitions include Amsterdam, Berlin, Brussels, Caracas, Copenhagen, London, Milan, Nice and Paris. She has an upcoming exhibition at Kunsthalle Zurich in fall, 2017 (curated by Daniel Baumann).
Donegan received her BFA in Painting from the Rhode Island School of Design and her MFA from Hunter College. She lives and works in New York City.