4411 Montrose Blvd., Suite B
Houston, Texas 77006
713 393-7319
info@davidsheltongallery.com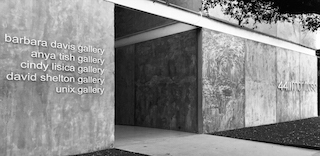 Tuesday - Saturday, 11 - 5
David Shelton, Director, david (at) davidsheltongallery (dot) com
Inquiries and Press Information, info (at) davidsheltongallery (dot) com
David Shelton Gallery showcases a vigorous program narrative that transcends contemporary political, social, cultural and gender issues. While several of the artists represented have a national and international presence, the gallery also represents mid-career and emerging artists.
Artists represented include Alejandro Diaz, Cheryl Donegan, Jonathan Faber, Joey Fauerso, Sara Frantz, Lane Hagood, Jessica Halonen, Robert Hodge, Jules Buck Jones, Stephen Lapthisophon, Paul Lee, Tameka Norris, Kelly O'Connor, James Smolleck, Vincent Valdez, Rodrigo Valenzuela, Keith J. Varadi and Michael Velliquette.
We are not currently accepting unsolicited submissions.