Archived Exhibition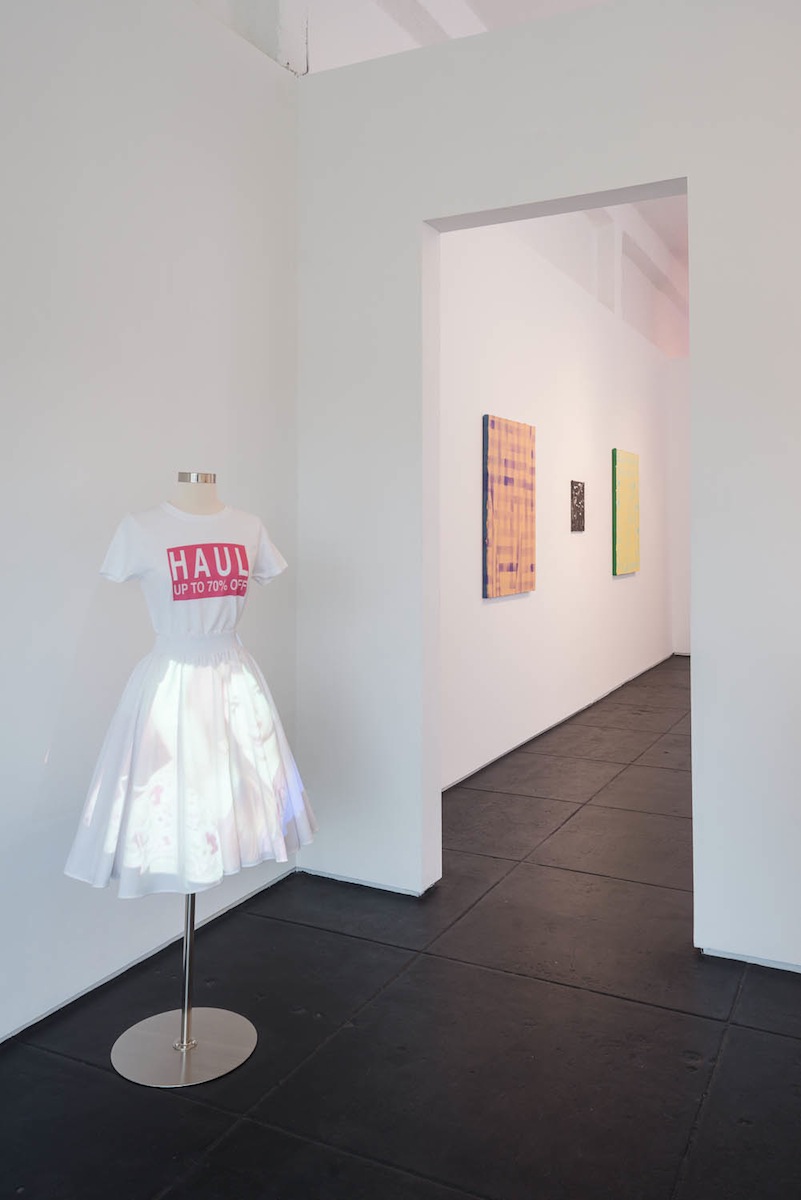 Fri, Feb 21, 2014 → Sat, Mar 29, 2014
Opening reception: Sun, Feb 21, 6:00 - 8:00 pm
ARTBLOGARTBLOG
Discussion and walk through with the Artist and Bill Arning on Saturday, February 22, 11:30 am.
For her first solo exhibition in Houston, Cheryl Donegan will debut Haul, a silent video projected onto a dress form wearing a plain-white, full skirt. This mode of working, video projected onto clothing, was first presented in the piece Blood Sugar which was shown last year in Brussels. In that piece, the video element formed a type of logo on the back of a vintage ski jacket. In Haul, the video image fills the entire contour of the garment, creating a moving kaleidoscope of images that cover the skirt with pattern and form. The content of the video was appropriated from the genre of social media videos popular on YouTube, called "haul videos." In a "haul video", a consumer, typically a young girl, (but young guys 'haul', too) presents shopping finds and narrates a description of her purchases for her audience. She'll tell you where, when and why she bought a particular item of clothing, all the while engaging with it by caressing, shaking, plucking and handling it.
Fascinated by these gestures, Donegan removed the audio, editing together a variety of girls and clothes, to focus on the physical relationship the young women have with the surfaces of their possessions. The shifting patterns, colors and textures represent a series of veils, future skins, projected selves. Everything is displayed in a communion of affect with a presumed fellow consumer. The haulers can barely contain their desire: stoking and plucking the clothing they proffer, and the audience shares and relates to their desire for an array of skins.
In the gallery, recent paintings offer the idea of skins on a different register. In this "haul", the surface is multiple, repeated, imitated, broken down, covered over and thinly skimmed. In burlap, spray paint, cloth, glue and impasto, Donegan gathers her surfaces. The full frontalism of the modern painting is exchanged for a veiled variety, refusing to locate in the singular. Mundane patterns, whether in homely cloth or handmade stencils, are played against themselves to allude to space and then disfigure it. Gestures sit on surfaces that cannot incorporate their compositional thrust and, as Morrissey has written: The drabness of true artifice comes alive.
About the artist:
Touching on popular culture, social media, high fashion and high art, Cheryl Donegan's work expresses a visual tension that tugs at accepted subjects in modern painting such as the traditional relationship between artist and model, the purported autonomy and nonreferentiality of abstract art and conventional themes of the gestural painter. Donegan is well known for video works from the early '90s, including Kiss My Royal Irish Ass (K.M.R.I.A.) and Head (both 1993). Her most recent videos are Blood Sugar (2013) and Haul (2014).
Donegan has participated in numerous solo and group exhibitions in the United States and Europe, including OUTSIDE THE LINES: UIA (Unlikely Iterations of the Abstract), Contemporary Arts Muesum Houston; 1993: International Jet Set, Trash and No Star, New Museum, New York; Blood Sugar, Galerie VidalCuglietta, Brussels; deCordova Sculpture Park and Museum, Massachusetts; and White Flag Library, White Flag Projects, St. Louis, in 2013. She has previously exhibited at MoMA, MoMA PS1, Guggenheim Museum, White Columns, The Whitney Museum of American Art and Museum of Contemporary Art Chicago. Recent international exhibitions include Amsterdam, Berlin, Brussels, Caracas, Copenhagen, London, Milan, Nice and Paris.
Donegan received her BFA in Painting from the Rhode Island School of Design and her MFA from Hunter College. She currently lives and works in New York City.