Archived Exhibition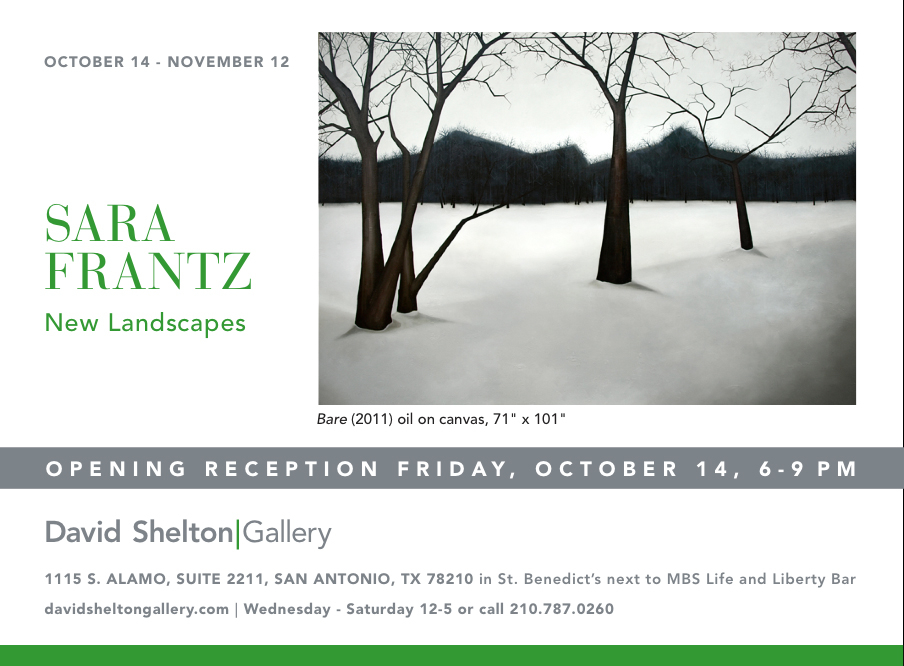 Fri, Oct 14, 2011 → Sat, Nov 12, 2011
Opening reception: Mon, Oct 14, 6:00 - 9:00 pm
San Antonio Express News
Austin- and San Antonio-based artist Sara Frantz continues the Fall art season at David Shelton Gallery with New Landscapes, featuring new paintings and drawings. This is her first one-person exhibition at the gallery.
Frantz' work is heavily influenced by travel; specifically, the shift one sees along a route. The gradual progression and eventual blending of towns, architecture, rivers and forests can almost allow one to read and understand the history of an area through its landscape.
Her work explores the similar themes of environment, consumption, space and forced decorative imitation of nature in a controlled revelation of landscape. While Frantz' drawings are quite specific, her paintings more broadly reference a conglomeration and accumulation of an area or location. "I want my paintings to be beautiful, but raw, and with a barely controlled neurotic layering. I'm attempting to balance restraint with excess, or at least to temper the anxious over-embellishment with order," says Frantz.
An MFA graduate of the University of Texas at Austin, Frantz has been teaching at the University of Texas at San Antonio since 2008. She was selected for the NES Artist Residency in Skagastrond, Iceland, in 2008, and has exhibited throughout the United States.