Archived Exhibition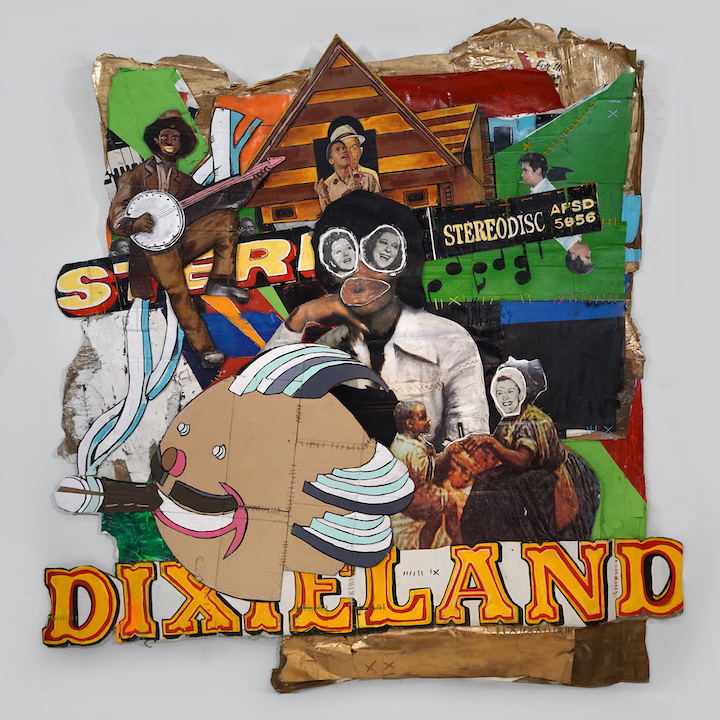 Fri, Jun 16, 2023 → Sat, Aug 19, 2023
Opening reception: Fri, Jun 16, 6:00 - 8:00 pm
Multidisciplinary artist Robert Hodge is presenting dual solo exhibitions this summer. Inspired by the iconic fifth studio album, titled "Speakerboxxx/The Love Below", from Outkast—the American hip hop duo consisting of Big Boi and André 3000—Hodge's exhibitions will deliver a compelling fusion of artistic expression and cultural commentary.
Released in 2003 by Arista Records, "Speakerboxxx/The Love Below" is a groundbreaking double album, with each member of Outkast contributing a solo album of their own. Drawing inspiration from this innovative work, Hodge has crafted two distinct exhibitions that delve into the album's themes and their intersections with his own artistic vision.
The first exhibition, titled after Big Boi's "Speakerboxxx" album, enables viewers to immerse themselves in Hodge's vibrant, textured collages that have been transformed in scale and technique. These salient works further Hodge's commentary on commercialization, history, and pop culture. Utilizing reclaimed and found materials, Hodge breaks away from his smaller, well-known collages, using them as studies for his new larger-scale compositions. The result is a body of visually resonant artworks that entice viewers to traverse the crosscurrents of art and society.
The second summer exhibition references Andre 3000's album, "The Love Below", which becomes a metaphorical reference to the tragic story of The Sugar Land 95, will open in November 2023. The exhibition focuses on a significant historical event in which the remains of 95 African American individuals were unearthed at a construction site in 2018 in Sugar Land, located about 20 miles southwest of Houston. Archaeologists determined that these individuals, buried in an unmarked gravesite, were part of Texas' convict leasing system. Hodge's visuals and paintings, recently showcased in collaboration with Blue Note drummer, composer, and Houston native Kendrick Scott for a performance at the Wortham Theater this May, funded by DaCamera, tell a poignant story honoring the lives of the Sugar Land 95. Through layered text-based paintings, Hodge weaves together a compelling narrative using the poetry and words of Deborah D.E.E.P. Mouton.