Archived Exhibition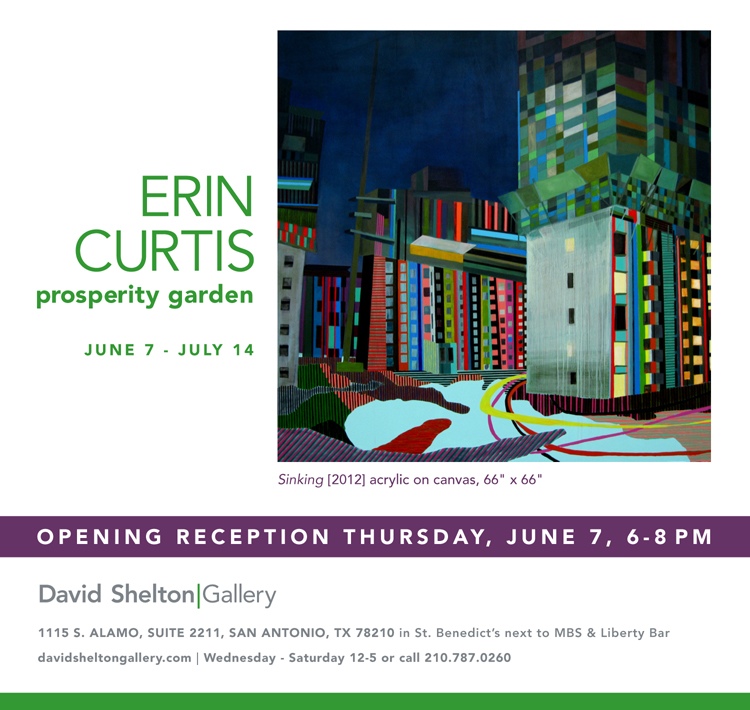 Thu, Jun 7, 2012 → Sat, Jul 14, 2012
Reception: Fri, Jun 7, 6:00 - 8:00 pm
Erin Curtis
During a winter residency in Colorado, high up in the thin mountain air, the excesses of an enclaved ski town mixing with nature's snowy peaks in sincere irreverence influenced this new body of work. Prosperity Garden presents scenes of architecture and decoration, space and structure, substance and nonsense that move fluidly back and forth.
Collaged works reveal a playful studio practice with serious concerns that read like slightly obscure visual spells. Collected images of nature and opulence float and dance through fields marked with color and line. Large-scale paintings, based on the instant cities being built outside of Shanghai, become decorated in the uneasy light of dawn for a party that will never happen. The undersea greens of the empty buildings feel old and sinking before they are even occupied. Landscape, architecture, and decoration serve as both subject and substance in the work. Through an exploration of what we build and how we ornament our world, our utopist yearnings for beauty and structure blend with damp noir predictions.
Erin Elizabeth Curtis was born in Albany, New York, in 1977. She attended The Glasgow School of Art in 1998 and graduated from William College with a BA in Liberal Arts in June of 1999. In May 2007, Erin received her MFA from the University of Texas at Austin, and she attended Skowhegan School of Painting and Sculpture in 2010. She has had solo exhibitions at Conduit Gallery, Dallas, TX; Champion Contemporary and Women and Their Work Gallery, Austin, TX; Kashi Art Gallery, Kochi, Kerala, India; and Lawndale Art Center in Houston, TX. In 2008- 2009 Erin was a Fulbright Scholar in Jaipur, Rajasthan. She was in residence at Anderson Ranch in Snowmass, CO, during the winter of 2012. Curtis received the Dozier Travel Grant from the Dallas Museum of Art in May 2012 to travel to Guatemala and study traditional textiles and architecture of the region. She is currently planning a large commissioned public art piece that will be placed along 3rd Street in Downtown Austin, TX.