Archived Exhibition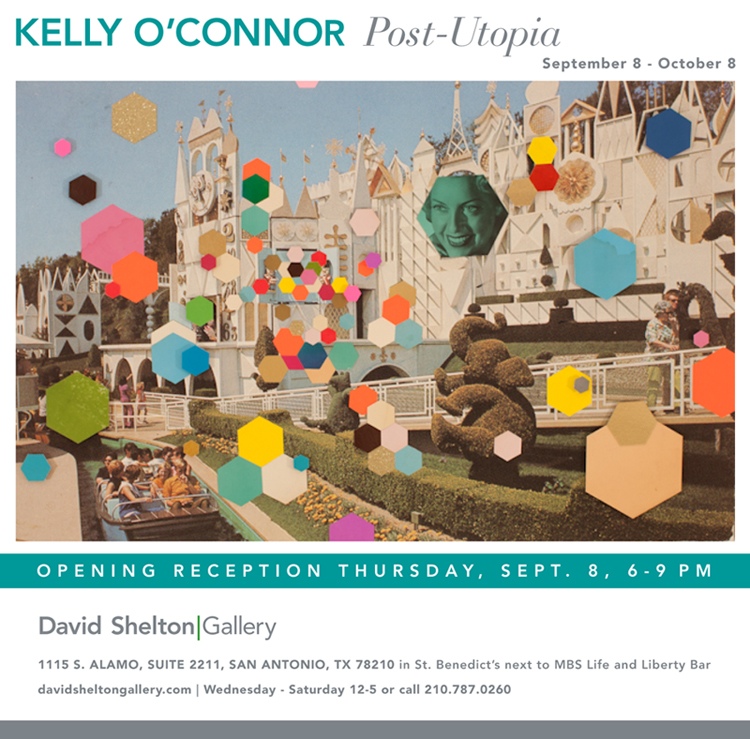 Thu, Sep 8, 2011 → Sat, Oct 8, 2011
Opening reception: Sun, Sep 8, 6:00 - 9:00 pm
Glasstire
and
...might be good
San Antonio-based artist Kelly O'Connor opens the Fall art season with Post-Utopia, featuring new collage, paper and installation works. This is her first one-person exhibition at the gallery.
O'Connor's work is derived from a combination of memory, fantasy and fiction, often drawing from Western folklore through the use of familiar fairy tales and iconic characters. "I am particularly interested in the duality of characters steeped in American idealism, yet who are tragic figures in their actual lives," says O'Connor. Much of her work is about exposing the reality behind these public façades.
She often overlaps multiple fairy tales to provide an overall sense of the stories, staging familiar characters in menacing landscapes. By appropriating idealized American scenes, such as Disneyland and Yellowstone National Park, O'Connor creates a non-linear narrative that entices the viewer to experience the influence or spell that these traditional stories and characters can cast. "In collage, works on paper, and installation-based work, O'Connor's familiar subjects undergo surreal, psychedelic, hypnotic, and other unsettling tranformations," according to Rene Paul Barilleaux, Chief Curator/Curator of Art after 1945 at the McNay Art Museum.
A graduate of the University of Texas at Austin, O'Connor was incuded in the Texas Biennial (2007), and recently had a one-person exhibition at Sala Diaz (2010). She has been selected for an upcoming solo exhibit at Women and Their Work in Austin (2012). Her work has also recently been on view at the McNay Art Museum.