Archived Exhibition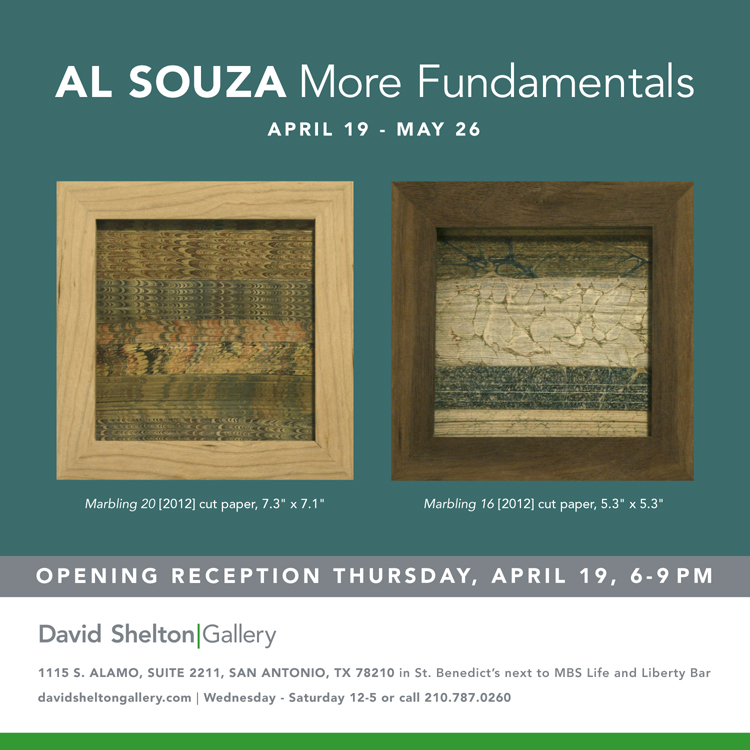 Thu, Apr 19, 2012 → Sat, Jun 2, 2012
Opening reception: Fri, Apr 19, 6:00 - 9:00 pm
Al Souza
The New Fundamentals exhibition includes new mixed media collages and cut paper "bookworks" from five recent bodies of work by Al Souza:
The Gaman series was initiated just after the Japanese tsunami in 2011. At the time, Souza was recovering from surgery and spending a good amount of each day on his back, watching televised images of the aftermath. "I was deeply affected by both the horror of the situation, and the beauty of the visuals of the images," says Souza. These collage works are comprised of pieces of wood, stones, broken toys, computer parts, and other items in an acrylic modeling paste, with areas of acrylic paint appearing throughout. The word gaman is Japanese in origin and means "reverence for perseverance".
The "bookworks" consist of four series of cut paper works made from mid-19th and early 20th century books. Souza hand cut ¾" from the edges and stacked this material in plexiglass fronted, aged wood boxes which he constructed. Many remain unmilled or weather stained on their sides. Since the works focus on different types of book pages, or a different area of the pages, each series is nuanced and unique.
The Maktub series uses gold leafed pages. The work maktub is Arabic in origin and means "it is written", but in our culture it translates to "in the past".
The Backworks series is made using the back, or binding, area of the books after the binding materials (glue, string, etc.) have been removed. Backworks also refers to a Fluxus focused store, run by Barbara Moore and Jon Hendricks in New York City, that Souza frequented in the 1970's.
For the Marbling series, Souza uses the edges of marbled pages, while in the Gibberish series he cuts into the printed area of the pages.
Souza has exhibited extensively throughout the United States, Europe, and Asia. His work is in numerous museum collections, including The Whitney Museum of Art, J. Paul Getty Museum, Museum of Fine Arts Houston, Dallas Museum of Art, and Bibliotheque Nationale de France in Paris. He is in many private and corporate collections such as Chase Manhattan Bank in New York, Atlantic Richfield Company in Los Angeles, Shell Oil Company in Houston, and American Airlines in Dallas/Ft. Worth.