Archived Exhibition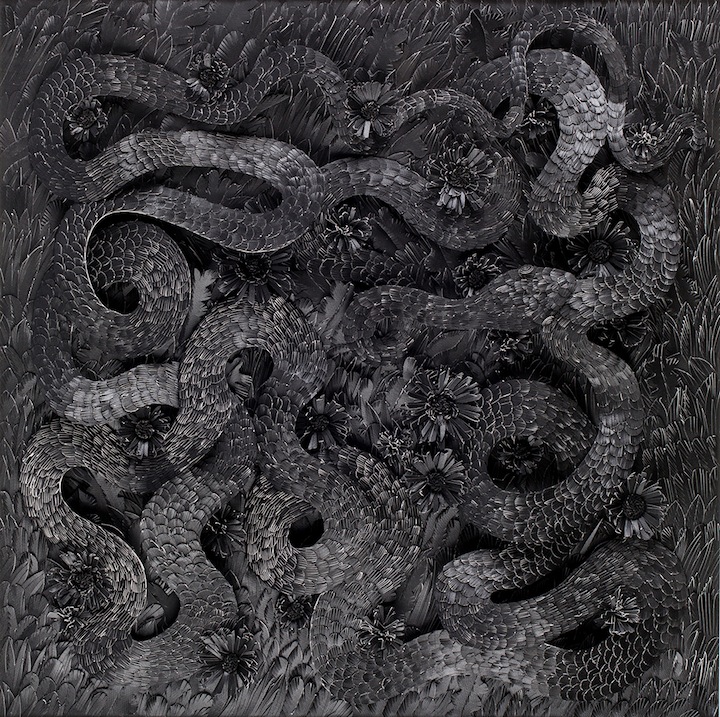 Fri, Nov 14, 2014 → Sat, Jan 3, 2015
Opening reception: Sat, Nov 14, 6:00 - 8:00 pm
Serpent Worship is a new series of dimensional cut paper constructions by Michael Velliquette. His distinctive works are densely layered, detailed arrangements of cut out shapes from hand-painted and ink-blotted papers. It is a process Velliquette has applied to diverse subjects, image styles and formal strategies for over a decade.
The ten works that comprise his current series makes use of the serpent as a recurring figure. As one of the earliest and most universal mythological symbols, the serpent has been associated with a multitude of meanings, most notably transformation, fertility, wisdom and vengeance. Velliquette's serpents are at once image and icon. While they embrace their folkloric origins, they insist on a new spiritual vocabulary — one that combines aspects of 20th century formalism with contemporary sensibilities about the handmade.
Traditionally, color has played a powerful role in Velliquette's work, conveying a sense of optical fullness and visual generosity. A handful of works in the Serpent Worship series demonstrate this phenomenon through his signature polychromatic palette, but he alters tactics in several new bold monochromes—a novel chromatic shift in Velliquette's oeuvre.
Camouflage is the prevailing leitmotif of this new series, both literally and metaphorically. The visual contrasts between the serpents and their jungle-like grounds create patterns-on-patterns that require time to acclimate in the eyes of the viewer. The works are simultaneously seen and unseen, and they actively shift between these modes of being.
In addition to his discrete framed works, Velliquette will create his first major wall installation, composed of over five thousand hand cut paper shapes. He has described the labor-intensive nature of his studio work as a corollary to other kinds of mindfulness practices. His choice to work with scissors and paper is a conscious decision to utilize everyday tools and materials, and to employ repetitive gestures to invoke a dissociative state. The cutting is akin to breathing in and out, an attention-focusing process that fosters the experience of being in the moment. By foregrounding its texture, weight, flatness and form, Velliquette highlights the paper's essential physical qualities, and its ultimate ephemerality as organic matter.
MICHAELVELLIQUETTE (American, b. 1971) is a mixed media artist known for his works with cut paper. He has recently had solo exhibitions at DCKT Contemporary New York and Morgan Lehman Gallery, New York. His museum exhibitions include Slash: Paper Under the Knife at the Museum of Art and Design, New York; Art on Paper at the Weatherspoon Art Museum; and Psychedelic at the San Antonio Museum of Art.
His work is in the collections of the Art Museum of South Texas; the Museum of Wisconsin Art; the Racine Art Museum; The Progressive Corporation; Western Bridge, Seattle; The John Michael Kohler Art Center; The State of Wisconsin; Boston Children's Hospital and the San Antonio Museum of Art. Velliquette also organizes the artist-run exhibition space Lovey Town. He lives and works in Madison, WI.