Archived Exhibition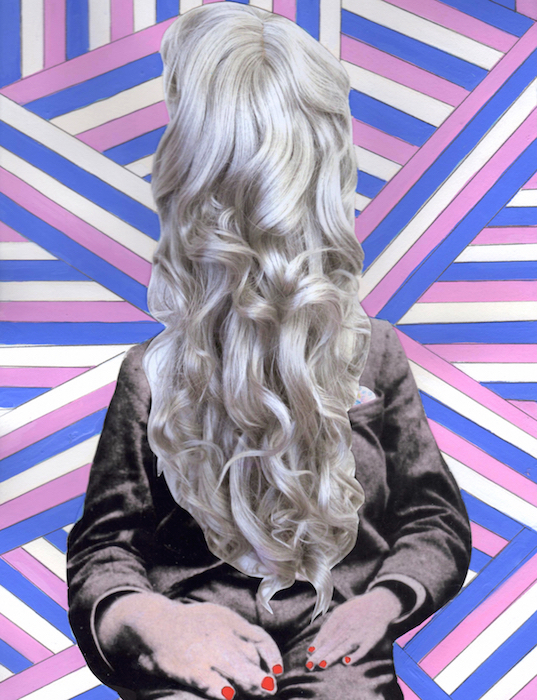 Fri, Oct 16, 2015 → Sat, Nov 21, 2015
Opening reception: Fri, Oct 16, 6:00 - 8:00 pm
Margaret Meehan
ARTFORUM
We're convicted of murder if abortion is planned.
Convicted of conspiracy if we fight for our rights.
And burned at the stake when we stand up to fight.
- Women's International Terrorist Conspiracy from Hell (W.I.T.C.H.), 1969
You keep playing where you shouldn't be playing
And you keep thinking that you'll never get burnt (HAH)
Well, I've just found me a brand new box of matches (YEAH)
And what he knows you ain't had time to learn
These boots are made for walking, and that's just what they'll do
One of these days these boots are gonna walk all over you
- Nancy Sinatra "These Boots are Made for Walking," 1966
Margaret Meehan's second solo exhibition at David Shelton Gallery reinvents the career of movie star Ruth Gordon. Referencing Gordon's 1968 Oscar win for Rosemary's Baby, and the cult classic film Harold and Maude (1971), Meehan casts the aging actress as the central character in David Lynch's The Elephant Man. Gordon becomes a stand-in for American women fighting to be treated as neither devil nor angel, just human in a time of sexual liberation and second-wave feminism.
Born in the 1970s and educated in the 1990s during the emergence of third-wave feminism and the Riot Grrrl movement, Meehan is interested in cycles of representation, in particular, the tendency for women to be depicted as monsters. Recent protesters have shouted: "I can't believe I still have to fight for this shit!" In Every Witch Way but Loose Meehan continues her investigation into otherness, teratology and forgotten histories linking a story based on the life of Joseph Merrick, a man born with physical deformities in nineteenth century London with two characters that Ruth Gordon actually played – one a rebellious iconoclast with a tragic past and the other a member of a satanic coven.
In a time of congressional witch-hunts, Meehan's exhibition includes collaged and painted cabinet cards depicting suffragettes in updated attire and a video Box of Matches that is a mash up of Nancy Sinatra's "These Boots are Made for Walking" with the theme song from Rosemary's Baby to create an elegiac protest march. Other works in the exhibition include text drawings based on movie scripts, as well as film stills, costumes and props from the imagined set where Ruth Gordon is The Elephant Man.
Margaret Meehan (b. 1970, Philadelphia) works in a variety of media focusing on gender and revisionist history. Recent solo exhibitions include Artpace in San Antonio, Conduit Gallery in Dallas and Soil Art Gallery in Seattle. Her work was has been included in recent group exhibitions at the Dallas Museum of Art, the Modern Art Museum of Fort Worth and Centraltrak, Dallas. This past year she was awarded The Nasher Sculpture Center's inaugural Artist Microgrant.