Archived Exhibition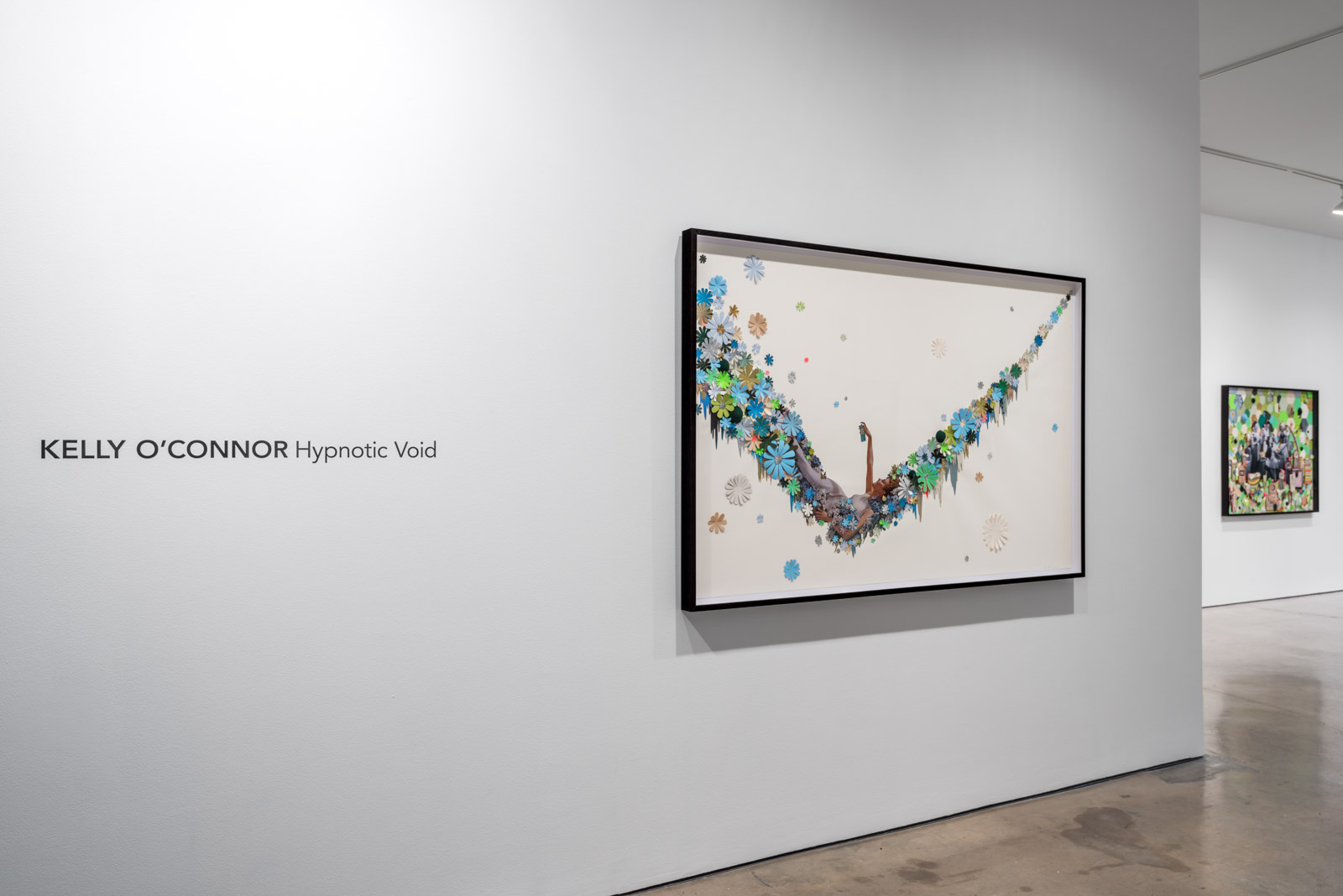 Fri, Apr 22, 2016 → Sat, May 28, 2016
Opening reception: Fri, Apr 22, 6:00 - 8:00 pm
Houston Press
,
Glasstire
and
Visual Art Source – Weekly Newsletter
In Hypnotic Void, Kelly O'Connor addresses central themes that include gender, feminism and family. Her work combines memory, fantasy and fiction, often drawing from Western folklore and the use of iconic characters. She uses these figures as an allegory of American idealism to represent a duality within our society, in which artificial joy is on public view, while in reality they often lead tragic lives. By appropriating romanticized national scenes, such as Disneyland or Yellowstone National Park, and presenting a non-linear narrative, O'Connor creates an ambiguous stage that allows the viewer to discover their own relationship to history.
In her collage works O'Connor juxtaposes candy-colored surfaces that are almost sickly sweet with papers sampled from vintage record covers. The contrast of sparkling rays and neon colors against weathered, dull tones acts as a metaphor for the dichotomy within the portrayed characters and scenes. The appropriated images are drawn from films, advertising and magazines, as well as amusement park and travel memorabilia, from the 1950's and 1960's, a period rich in American stereotypes. All of these familiar subjects undergo surreal, psychedelic and hypnotic transformations that draw the viewer into a dreamlike space.
Kelly O'Connor studied visual arts at the University of Texas at Austin, where she received a BFA in Studio Art in 2005. O'Connor has exhibited at the San Antonio Museum of Art and the McNay Art Museum in San Antonio, Women and Their Work in Austin and the Blaffer Museum in Houston. Her work has been included in the Texas Biennial and New American Paintings in 2013. She lives and works in San Antonio where she is the Collection and Exhibitions Officer at the Linda Pace Foundation. Hypnotic Void is her third solo-exhibition with the gallery.