Archived Exhibition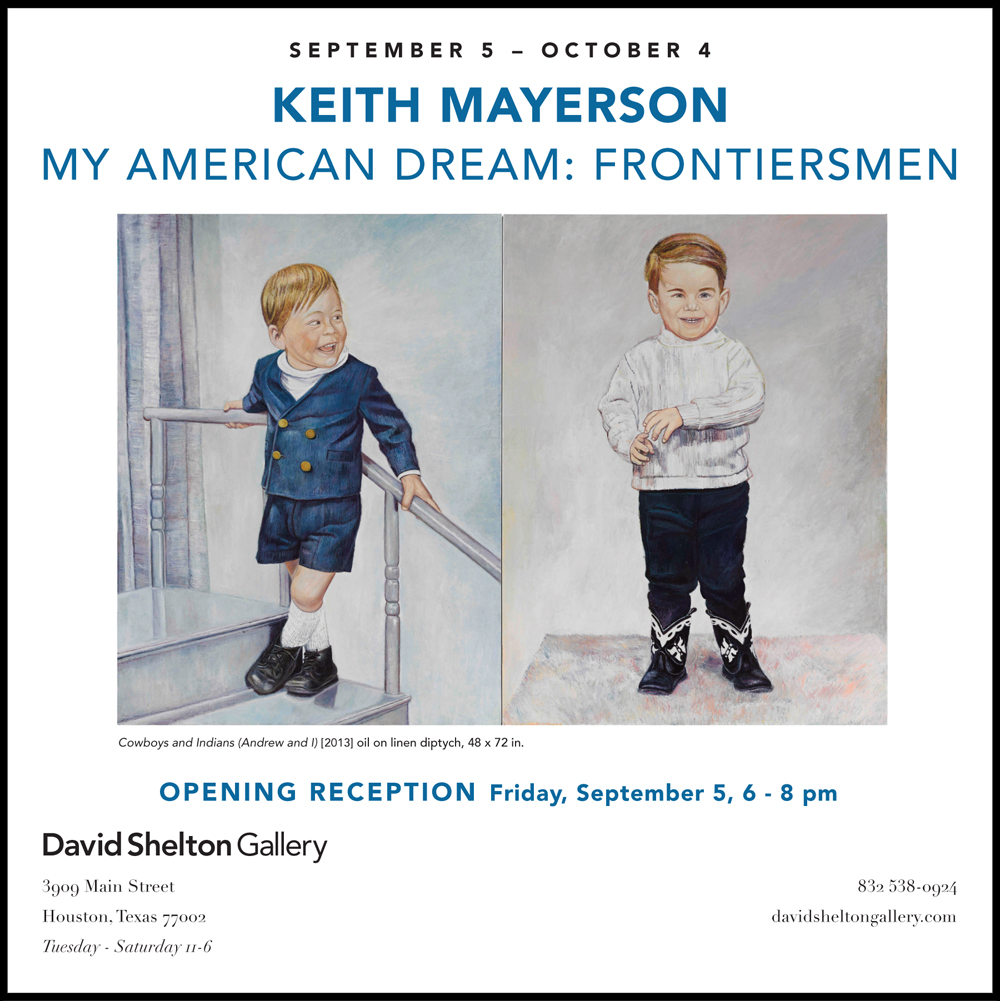 Fri, Sep 5, 2014 → Sat, Oct 4, 2014
Opening reception: Sat, Sep 5, 6:00 - 8:00 pm
ARTBLOGARTBLOG
Keith Mayerson's exhibitions are often installations of images that create larger narratives. Each work is imbued with allegorical content that relates to the world, yet allows, through its formal nuances, for the transcendent and sublime. The works stand on their own for form and content, but, like panels in a comic, the juxtaposition of each image together also tells a non-linear story. In experiencing the images in context as a series, the viewer creates the ultimate meaning for the installations.
My American Dream is an über narrative, born out of a large cosmology of mostly the last four years of painting personal images from photographs from Mayerson's own life—of him and his husband, his family and the world around him—but also from a long twenty-year career of painting from appropriated imagery and abstraction. A section of a larger cosmology of My American Dream was recently included by curator Stuart Comer in the 2014 Whitney Biennial (which included three of the paintings in this selection).
My American Dream: Frontiersmen focuses on the heart of his narrative, which is the artist's life with his partner of 22 years and husband, Andrew Madrid, and the context of a historical America that enabled the liberties for their dream to exist. American Eagle, (a painting of a plaster cast of an eagle from the top of an American Eagle's Lodge in Huntington Beach, CA) symbolizes the strength and willpower of our country to survive during times of strife and renewal, fighting for freedom. Cowboys and Indians (Andrew and I), is a diptych of the artist and his husband from studio photographs taken when they were small children (Mayerson, from Colorado, in cowboy boots and Madrid, Latino and part Native American from California), seemingly destined to be partners for life. Sitting Bull is a portrait (appropriated from a postcard that he sold to benefit his people when he was in Buffalo Bill's Wild West Show), of the legendary Native American leader in front of a painted backdrop, which breaks into a surreal world of the early days of our country. Husbands (Andrew and I), from a "selfie" that Madrid took, depicts the artist and his husband in current times at their cabin in California where they were married. Love Triumphant (James Dean in a Tree) is from a notorious photo alleged to be of the great (bisexual) actor who helped give a voice to youth culture and inspired Rock and Roll, who unabashedly celebrates his spirit of independence and liberty posing in flagrante, from above.
My American Dream is both an intimate account of Mayerson's journey into the 21st century and a contemporary portrait of America in challenging times. With formal principles inspired by Manet, Monet and many of the old masters, and modernists who made paintings that were both political and personal, as well as painterly, warm and transcendent, Mayerson paints from his heart romantic images that hold deep significance not only to him, but extend to pertinent issues currently shaping our world and cultural history. In these works, he hopes to render the America of the moment: diversely and ideologically the country that is beloved, yet hard to define, one who's social and political landscape is in a state of constant and extreme flux and change.
Mayerson's work is featured in the permanent collections of the Museum of Modern Art (MoMA); the Whitney Museum of American Art; the Museum of Contemporary Art, Los Angeles (MOCA); the Corcoran Gallery; the Los Angeles County Museum of Art (LACMA); the San Francisco Museum of Modern Art (SFMOMA); the Cleveland Museum of Art; and the Columbus Museum of Art (CMA). Mayerson has a B.A. from Brown University, and an MFA from the University of California, Irvine. He lives in New York City. This is his first solo exhibition with the gallery.