Archived Exhibition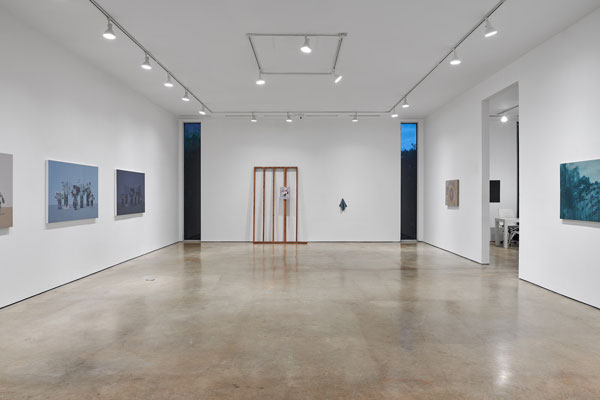 Fri, May 3, 2019 → Sat, Jun 8, 2019
Reception: Sun, May 3, 6:00 - 8:00 pm
Houston Press
The color of twilight is said to have been invented in 18th century in Berlin, when a researcher accidently mixed blood-stained potash with a chemical compound. The unplanned event was significant for artists: it gave them, for the first time, a synthetic pigment and a stable, inexpensive blue—Prussian blue—to paint, among other things, that liminal time when day fades into night.
The Prussian blue story of color and chemistry has hummed in the background of Jessica Halonen's paintings, drawings, and sculptures since 2015 (when she was a resident artist at Berlin's Kunserlhaus Bethanian). Her elegant, mysterious work has long been rooted in the intersection of art and science, from the appearance, in early drawings and objects, of DNA-shaped strands and spliced "helixes" to bodies of work titled Rx Garden (2010-2014) and Drug Portraits (2009-2012). The new anchor to art history and ambiguity provides a new tension.
Think of Halonen's exhibition The Blue Hour, at David Shelton Gallery in 2015, the first of this body of work. A mournful hue of blue peppered its geometric shapes and painted fading floral arrangements. Recall the artist's monumental twelve-foot painting A Clock Stopped (Flowers After Manet), from 2017, which that year appeared amongst a group of objects at Blue Star Contemporary in San Antonio. The painting, which featured twelve arrangements of flowers against an inky background, made explicit another anchor for this body of artwork: the last paintings of Edouard Manet, a master of looking (and getting viewers to look) at light, at the passage of time. For his last paintings, the observer and usher of modernity studied and rendered the many bouquets he was receiving as his life wore away.
Halonen's exhibition Dust and Daylight is comprised of nearly a dozen new artworks. Painted bouquets appear again, now in a kind of triptych, with each canvas dominated by a different muted hue—tan, gray, deep blue—used both for the arrangements and their backgrounds. It is as if, in withering, the flowers are becoming part of their surroundings.
There are other hints at history, at this artist's history. Sculptures, some made of reclaimed wood, obliquely reference structures coming apart or together: stretcher bars for wrapping canvas, the studs upon which drywall is hung for presenting paintings, old handkerchiefs heavy with blue. In several paintings, we catch glimpses of how the artist thinks, what she notices: the fleeting colors in an oil spill, condensation marks on a windowpane. Together the artworks in Dust and Daylight, likely the last in this body of work for Jessica Halonen, speak to beginnings and endings, to the weight of the in-between.
By Kate Green, Ph.D.
Senior Curator
Collections, Exhibitions, Scholarly Programs
El Paso Museum of Art