Archived Exhibition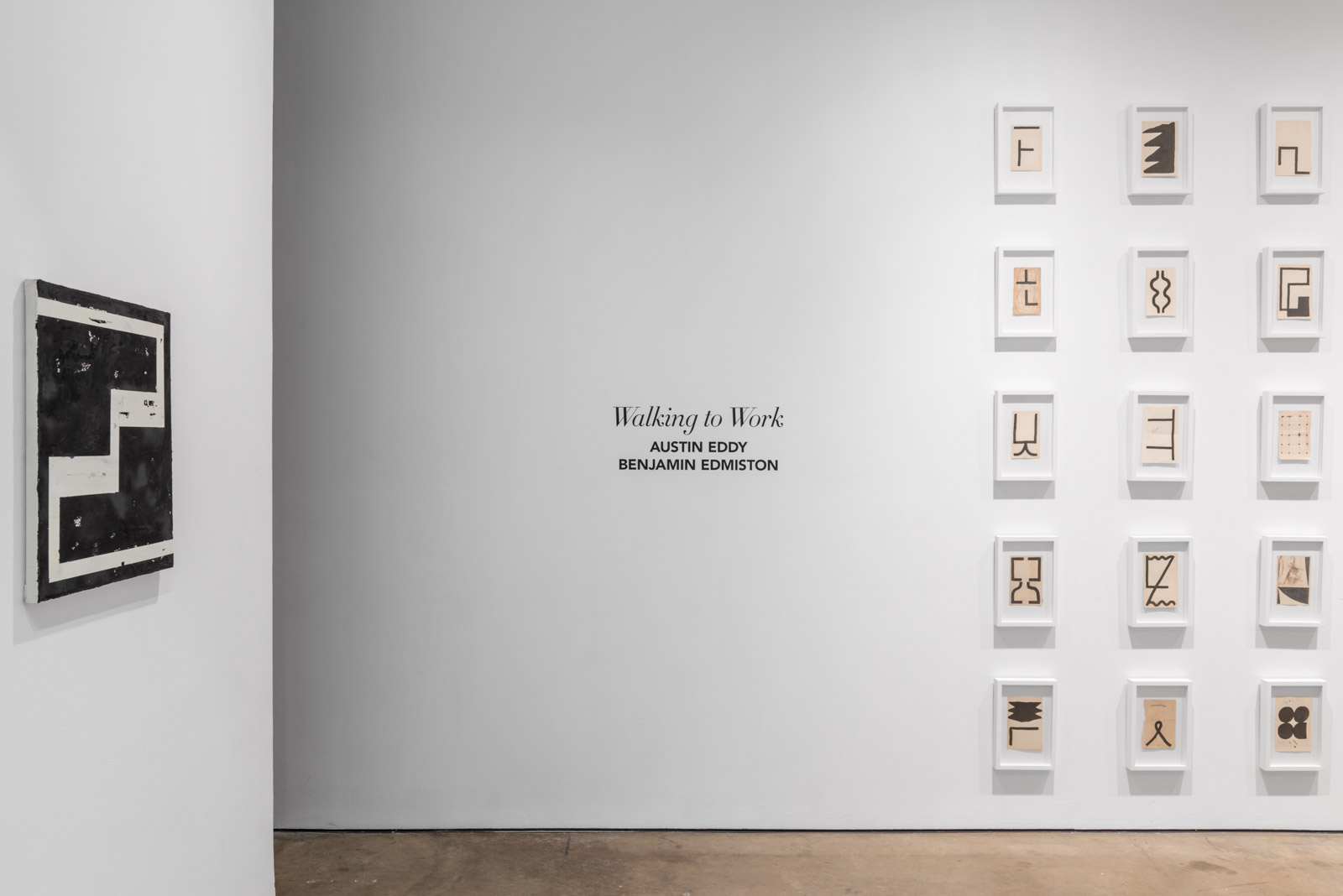 Fri, Jun 2, 2017 → Sat, Aug 19, 2017
Opening reception: Fri, Jun 2, 6:00 - 8:00 pm
Austin Eddy and Benjamin Edmiston
Houstonia Magazine
and
Hunted Projects
David Shelton Gallery is pleased to present 'Walking to Work', a two-person exhibition by Brooklyn-based artists Austin Eddy and Benjamin Edmiston. Taking its title from the Frank O'Hara poem of the same name, 'Walking to Work' actuates the tension between lightness and darkness, delivered through a process of abstraction and reduction. As demonstrated in their paintings, drawings and sculptures, both artists expose their affinity for flattened space, materiality and concentrated color relationships. Deep browns, forest greens and chromatic blacks make way for glimpses of bright yellow, orange or red, producing an effect similar to a match being lit in a darkened room. Throughout the exhibition both Eddy and Edmiston reveal a kinship of work dedicated to formal rigor and a shared internal rationale.
Austin Eddy earned a BFA from The School of the Art Institute of Chicago in 2009. Exhibiting internationally, his solo shows since 2012 include Launch F-18 Gallery, New York, NY; Roberto Paradise, San Juan, Puerto Rico; Christian Berst, New York, NY; Bendixen Contemporary Art, Copenhagen, DK; The Horticultural Society, New York, NY; the University of Kentucky Hospital, Lexington, KY; Important Projects, Oakland, CA; Conduit Gallery, Dallas, TX and most recently Taymour Grahne Gallery, New York, NY. He participated in group shows, including The Urban Institute of Contemporary Art, Grand Rapids, MI; Museum Of Contemporary Art, Atlanta, GA; The New Hampshire Institute of Art, Manchester, NH; Adams And Ollman, Portland, OR; Coburn Projects, London, UK; Brand New Gallery; Milan, IT; Steinsland Berliner, Stockholm, SE; Charlotte Fogh Gallery, Aarhus, DK; as well as a two-person exhibition at Denny Gallery in New York, NY.
Benjamin Edmiston earned his MFA from Brooklyn College in 2012 and his BFA from Tyler School of Art in 2003. Recent solo and two-person exhibitions include Left Field Gallery, San Luis Obispo, CA; Vox Populi Gallery, Philadelphia, PA; and Residency Gallery Gallery, Hudson, NY. He has been included in several group shows including False Flag Gallery, Long Island City, NY; Charlotte Fogh Gallery, Aarhus, DK and Cuevas Tilleard Projects, New York, NY. He was an artist in residence at OCAD University,Toronto, Canada and was nominated for the Joan Mitchell Foundation MFA Grant. Edmiston's work was included in New American Paintings and The Age of Collage: Contemporary Collage in Modern Art.