Archived Exhibition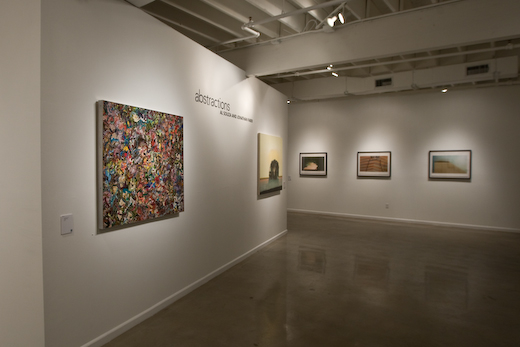 Sat, Nov 7, 2009 → Sat, Dec 5, 2009
Jonathan Faber and Al Souza
San Antonio Express-News
,
Examiner.com
and
San Antonio Express-News
Abstractions, Al Souza and Jonathan Faber features two Texas-based artists whose abstract use of form and color suggests a representational quality.
Souza works with non-traditional mediums to create collages of puzzle pieces with acrylic; as well as reconstructed, cut and sewn paper pieces from such objects as maps, comics, and statistical reports. He has exhibited widely throughout the United States, Europe, and Asia. His work is in numerous museum collections, including The Whitney Museum of Art, J. Paul Getty Museum, Museum of Fine Arts Houston, Dallas Museum of Art, and Bibliotheque Nationale de France in Paris. He is in many private and corporate collections such as Chase Manhattan Bank in New York, Atlantic Richfield Company in Los Angeles, Shell Oil Company in Houston, and American Airlines in Dallas/Ft. Worth.
Faber uses traditional mediums of oil painting and pastel to create a suggestion of invention through recalled experiences, where nearly recognizable forms emerge and dissipate against a shifting ground. He earned his MFA at the University of Texas at Austin, and is a lecturer at UT Austin and Southwestern University. His work has been exhibited at the Austin Museum of Art, Galveston Arts Center, Blanton Museum of Art, as well as in numerous galleries. He received a Joan Mitchell Foundation MFA Grant in 2003 and is a two-time nominee for the Arthouse Texas Prize.