Archived Exhibition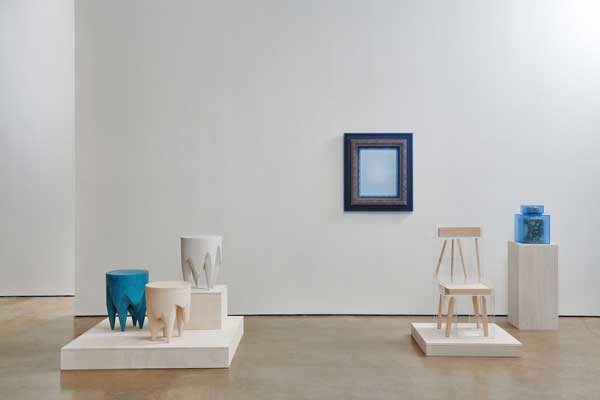 Fri, Jan 10, 2020 → Sat, Mar 21, 2020
Reception: Fri, Jan 10, 6:00 - 8:00 pm
Jorgen Hovelskov
Donald Judd
Joyce Lin
Erica Sellers
Jomo Tariku
Ara Thorose
Ben Edmiston
Benjamin Edmiston's sophisticated abstract paintings and drawings favor restraint over abundance. Geometric compositions with an identifiable hand painted touch, Edmiston's work uses the language of architecture as impetus. Intimately scaled paintings pack a graphic punch with flat, bold color or (in many cases) black and white. Each are direct and confrontational yet simultaneously leave space for the viewer to wander.
Benjamin Edmiston earned his MFA from Brooklyn College in 2012 and his BFA from Tyler School of Art in 2003. Recent solo and two-person exhibitions include Left Field Gallery, San Luis Obispo, CA; Vox Populi Gallery, Philadelphia, PA; and Residency Gallery Gallery, Hudson, NY. He has been included in several group shows including False Flag Gallery, Long Island City, NY; Charlotte Fogh Gallery, Aarhus, DK and Cuevas Tilleard Projects, New York, NY. He was an artist in residence at OCAD University,Toronto, Canada and was nominated for the Joan Mitchell Foundation MFA Grant. Edmiston's work was included in New American Paintings and The Age of Collage: Contemporary Collage in Modern Art.
Jorgen Høvelskov
Jørgen Høvelskov (born in 1935) served as a Danish visual artist who produced key works as part of the golden age of Danish furniture. Høvelskov created the "Viking Chair," which was exhibited for the first time in 1963. The chair was awarded the best design at the Copenhagen Company of Joiners, one of the highest accolades at that time.
The Viking Chair was renamed the "Harp Chair," which boasted a unique design and was sold globally. It was inspired by a Viking ship and featured a harp-like backrest and seat. The chair also included the artistic quality and aesthetic visual appeal of a harp, boasting rope seating that provides body-conforming comfort and support while creating a unique appearance.
In addition, the Harp Chair features a triangular base meticulously crafted from solid wood to ensure optimal strength and stability while adding a touch of organic artistry. These chairs represent the Danish design aesthetic, reflecting a commitment to creating practical yet fashionable pieces that would serve consumers well for an extended period of time
Donald Judd
In the early 1970s, Donald Judd began to design furniture for his home located at 101 Spring Street in New York. His first designs were a wood bed and metal sinks. In 1977, he returned to furniture design through necessity; he needed pieces for his children's bedrooms in Marfa and pieces for the entire residence. By 1984, Judd had designed a range of wood furniture including a bed, desk, and a daybed; and metal furniture including chairs, benches, beds, and a table. That same year, Judd had his first exhibition of metal furniture at Max Protetch in New York. From 1984 to 1993, he continued to develop new designs. At this time he began writing in more formal terms about furniture and his approach to design, fabrication, sales, and distribution.
Fundamental to Judd's designs are his specifications regarding dimensions, material type, finish and construction of each piece. Judd specified that the quality remain high, a considered approached given that fabrication of the furniture involved the expertise and handwork of both local carpenters and master craftsmen. He selected fabricators he entrusted with the interpretations of his designs; working directly with them to develop and refine his desired level of quality.
Judd outlined his concerns for the fabrication, distribution, representation, and exhibition of his furniture in 'It's Hard To Find A Good Lamp,' an essay written for the Museum Boymans-van Beuningen catalogue in 1993. Judd maintained a small distribution as an essential element of the process that continues today.
Joyce Lin
Joyce Lin is an artist and designer passionate about making functional objects and sculpture as a mode of exploration and play. She works with a wide range of mediums including wood, plastics and upholstery to create surrealistic objects that adress questions about material, form and the ever-shifting relationship between humans and their environment.
Joyce grew up in Birmingham, AL, where she attended the Alabama School of Fine Arts. Her cross-disciplinary interests led her to attend the Brown/RISD Dual Degree Program, where she earned her BFA in Furniture Design at the Rhode Island School of Design and BA in Geology-Biology at Brown University in 2017. Joyce currently lives and works in Houston and was a 2019 artist in residence at the Houston Center for Contemporary Craft. Lin's work was most recently featured at R & Company (NY) in Chairs Beyond Right & Wrong curated by Raquel Cayre.
Erica Sellers
Erica Sellers is a sculptor and furniture designer based in New York, NY. She received a BFA in Industrial Design from RISD in 2012. She uses a combination of analog and digital processes that culminate in the visualization of data and sound to create forms for furniture works. Her work emphasizes chaos vs. order, randomness, and resonance in order to question the complex language of physical form through incorporeal means. Her Dark Matter collection is based on the sonification of a star coming into contact with a black hole. Using the audio clip 'Boom' from NASA's public domain, she converted the recording into a visual soundscape. Sellers further manipulated the soundscape into abstract forms to be used as the surface textures and shapes.
Sellers' work has been exhibited nationwide, such as at Fernando's 2018 edition of In Good Company, and a permanent selection of drawings are on display in the MRI facilities at the Albert Einstein College of Medicine in Bronx, NY. Sellers is the Chief of art production at Isolated Labs--studio of Tavares Strachan. Her work has been featured in Architectural Digest, ArtNet, Designboom, Design Milk and Hyperallergic, among others.
Jomo Tariku
Ethiopian American artist and industrial designer Jomo Tariku is defining a new design language of modern African-themed furniture. As a young boy growing up in Ethiopia he was always drawn to the eclectic art, souvenirs and furniture pieces his father collected during his travels throughout Africa and beyond. Jomo developed craftsman skills while spending his summer breaks at a local furniture builder in Addis Ababa, Ethiopia. He went on to study Industrial Design at the University of Kansas, and completed his college thesis on Contemporary African Furniture. Jomo's furniture includes a wide variety of artistic designs that synthesis his own experience of the continents diverse culture, historical structures, architecture, traditional furniture, colors, artifacts, landscapes, wildlife and hair styles.
Jomo's work has been shown at Downtown Design Dubai 2016; Venice Design 2017 in Venice, Italy; Africa by Design in Accra, Ghana; International Contemporary Furniture Fair (ICFF 2017) and Salone del Mobile's curated show at Salone Satellite titled Africa/Latin America: Rising Design – Design Emergente in April 2018. His work has been featured in Architectural Digest, Business of Home, Elle Décor, Interior Design magazine, and New York Magazine's The Cut.
Ara Thorose
Ara Thorose is an American designer from Los Angeles and living in NYC. He holds an MFA in 3D Design from Cranbrook Academy of Art in 2015. He founded Soft Limits in 2019 featuring his collectible design debuted it at the Architectural Digest Design Show the same year. This work is upholstered furniture deriving from rubber tubular work.
Soft Cylinders won Interior Design's 2019 Best of Year Award for Accent Seating. The 5M Chair received the distinction of Editors' Pick by The Architect's Newspaper in the 2019 Best of Products Awards. His work has been featured in Surface Magazine, Architectural Digest, Milk Decoration and many other international publications. In October 2019, the 7M Chair was featured in the ELLE Decoration showcase during Dutch Design Week in Eindhoven.