Archived Exhibition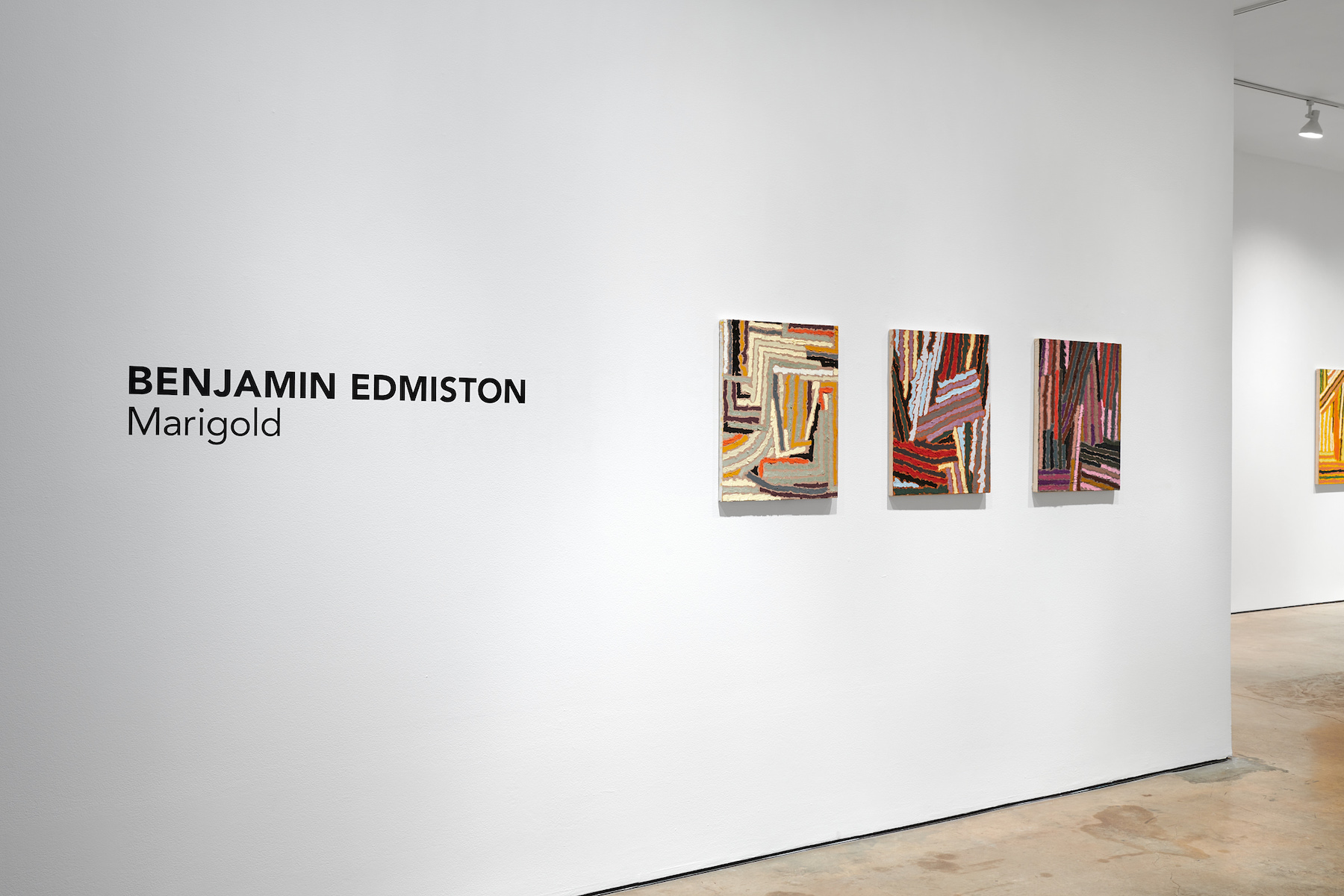 Fri, Sep 8, 2023 → Sat, Nov 11, 2023
Opening reception: Fri, Sep 8, 6:00 - 8:00 pm
David Shelton Gallery is pleased to present "Marigold", our third solo exhibition by Brooklyn-based artist Benjamin Edmiston. Edmiston's recent suite of paintings expands upon his interest in the relationship between abstract forms, color, and the natural environment. Titled after flowers, each painting reflects upon the artist's connection with nature and its ability to convey meaning through form and color.
The paintings are composed of frenetic lines and colorful zips, gestural strokes that activate the surfaces. Organized patterns, as well as blunt abuttals of contrasting colors, create rich and dynamic fields of painterly expression. Just as Edmiston's signature hatch-marks recall the orderliness of geometric abstraction and the emotion associated with gestural abstraction, the artist also finds inspiration from fields of wildflowers and carefully tended gardens.
Benjamin Edmiston earned his MFA from Brooklyn College in 2012 and his BFA from Tyler School of Art in 2003. Recent solo and two-person exhibitions include David Shelton Gallery, Houston; Left Field Gallery, San Luis Obispo, CA; Vox Populi Gallery, Philadelphia, PA; and Residency Gallery Gallery, Hudson, NY. He has been included in several group shows including False Flag Gallery, Long Island City, NY; Charlotte Fogh Gallery, Aarhus, DK and Cuevas Tilleard Projects, New York, NY. He was an artist in residence at OCAD University, Toronto, Canada; Island Press Residency at Washington University, Saint Louis, Missouri; and was nominated for the Joan Mitchell Foundation MFA Grant. Edmiston's work was included in New American Paintings and The Age of Collage: Contemporary Collage in Modern Art. Comcast recently acquired 30 of Edmiston's drawings for the new Comcast Technology Center's permanent collection in Philadelphia, PA.